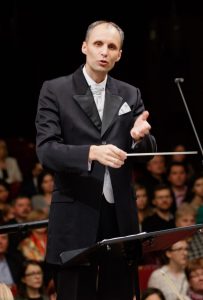 Maestro
dr hab. Dariusz Zimnicki
Choir conductor, lecturer, composer.
He graduated from Vilnius Conservatory and the Warsaw Academy of Music (2002).
Currently, he works at the Warsaw University of Music and holds the position of a lecturer in the Department of Choral Conducting.
Soon after completing studies had been working in Warsaw Chamber Opera as an assistant conductor.
Curently he is involved in working in six choirs, especially the Warsaw University of Technology Choir and the Warsaw Archicathedral Choir. Together, they give numerous concerts comprising of both a capella works and vocal-instrumental pieces. He distinguishes by leading innovative musical projects. Furthermore, he participates in large number of festivals, gained over 20 choir awards in the country and abroad. Additionaly, he is a co-founder of the Tibi Domine Choir in Warsaw.
Dariusz Zimnicki was granted a Ministry of Culture Scholarship for outstanding scholastic achievements. In 2002, he won the 3rd prize and the special prize during the Competition for Choral Conductors in Poznan.
Member of artistic committee of Polish Church Choirs Association. He is also involved in organising a great number concerts, choir festivals and workshops.
---